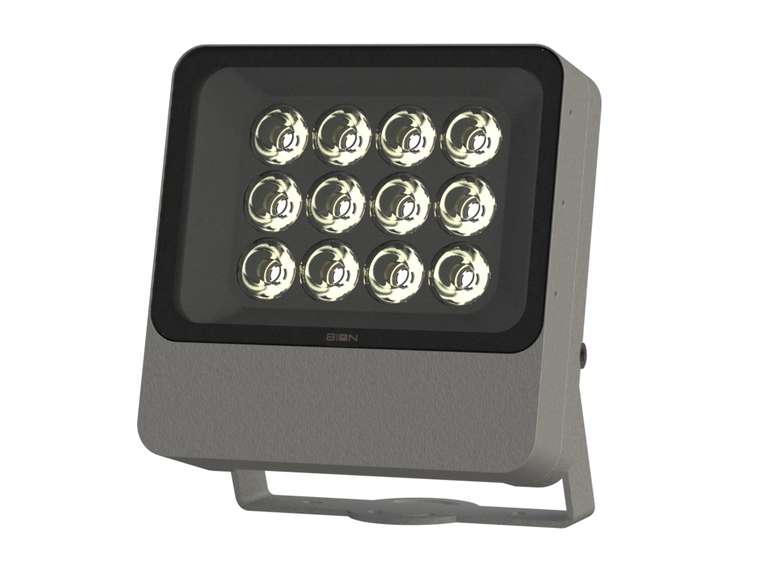 firmus l
pureWhite | pureColor
Cubic design for the urban area
The firmus fixture range is presented with a reserved, straightforward design. This fixture series is perfect for the urban area such as public spaces and the surrounding architecture, which are perfectly staged without being in competition with the illuminated architecture. Depending on the circumstances and necessity, the appropriate firmus performance level can be selected from three performance classes: m, l and xl. The aforementioned scalability where maximum luminous flux and the different application-oriented light distributions curves available transform the firmus fixture range into an indispensable tool for architects, lighting designers or town planners.
The highest quality materials and components that are suitable for the exterior space are used for firmus fixtures. Furthermore, the lighting system was developed and converted with the objective of integrated maintainability in a future-proof manner.
The cubistic design of the firmus range can be perfectly matched with the circularly shaped fixtures of the discus range.
Luminaire Type

&nbsp&nbsppureWhite

&nbsp&nbsppureColor

pureWhite Color Temperatures
2700 K, 3000 K, 3500 K, 4000 K
* Project-specific color temperatures for pureWhite available.
pureColor LED-Colors
Red, Green, Blue, Amber
Beam Angles
Lumen Output
6600 lm
Light Source
12 x LED
Color Rendering Index
Ra >= 80
Dimming
Dimmable (0 - 10 V , IOT , DMX , DALI)
Input Voltage

Power Supply: Internal | 100 - 240, 277 VAC (50 - 60 Hz)

Power Consumption
Max. 90 W
Storage Temperature
-40 °C / +80 °C | -40 °F / +176 °F
Operating Temperature
-40 °C / +40 °C | -40 °F / +104 °F
Start-up Temperature
-25 °C / +40 °C | -13 °F / +104 °F
Housing Color(s)

DB703 powdercoated

White powdercoated

Black powdercoated

Custom Color RAL

Ingress Protection
IP66
Environment

Certification
Your order code:
Send request
When the background gets green, your selection is complete!
Please choose from the options below.
TYP - LUMINOUS COLOR
pureWhite - 2700 K
pureWhite - 3000 K
pureWhite - 3500 K
pureWhite - 4000 K
pureColor - Red
pureColor - Green
pureColor - Blue
pureColor - Amber
DIMMING
Dimmable - 0 - 10 V
Dimmable - IOT
Dimmable - DMX
Dimmable - DALI
BEAM ANGLE
10° x 10°
22° x 22°
34° x 34°
60° x 60°
8° x 31°
10° x 40°
12° x 60°
14° x 100°
30° x 60°
WIRING
CE - Europe
ETL - North America
HOUSING COLOR
DB - DB703 powdercoated
WH - White powdercoated
BL - Black powdercoated
RAL____ - Custom Color RAL
WIRING CONFIGURATION
PIDX - Power IN only
PIDI - Power IN + Daten IN
PIDO - Power IN + Data IN/OUT
PODI - Power IN/OUT + Data IN
PODO - Power IN/OUT + Data IN/OUT
LEADERCABLE LENGTH
000 - no leader cable - self assembly
006 - 60 cm (23.6 in) leader cable
030 - 3 m (118 in) leader cable