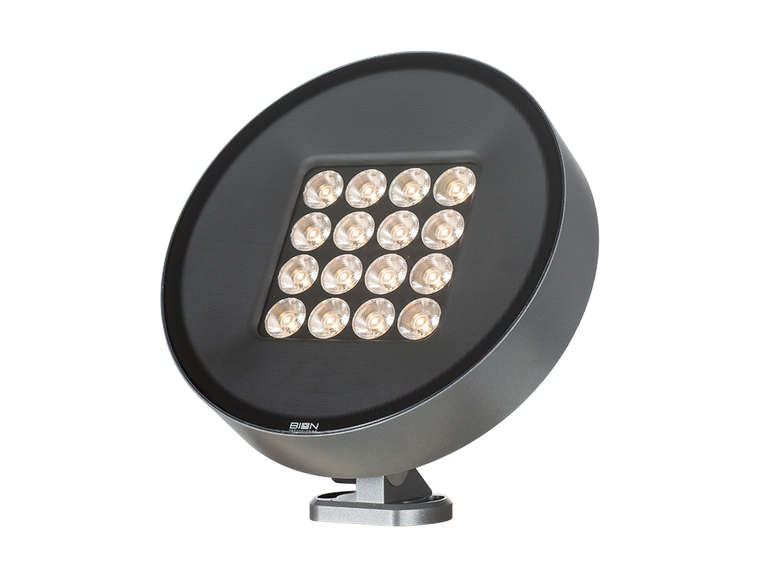 discus xl
pureWhite
Round architectural spotlights for the highest of demands!
The product name of no other fixture speaks more in favour of the design vocabulary than the discus fixture range. Flat, circulating light fixture meets a straightforward, discreet design. The illuminated object is always at the fore – the perfect staging of architecture is the greatest compliment for the discus fixture range. Just like its design-related equivalent, firmus, the discus fixture is available in three performance classes and also offers a selected portfolio of application-oriented light distributions.
The IOT control option – a native integration of WiFi in the fixture – enables direct involvement of the digital light technology LED in digital IT‑networks and thus, a direct link to the digital world. Hence, it offers all the possibilities of the Internet Of Things.
The fixture with an aluminium housing is entirely maintainable and is therefore, perfectly suitable for long-term use in the urban landscape.
Luminaire Type

&nbsp&nbsppureWhite

pureWhite Color Temperatures
2700 K, 3000 K, 3500 K, 4000 K
* Project-specific color temperatures for pureWhite available.
Beam Angles
Lumen Output
11400 lm
Light Source
16 x LED
Dimming
Non-dimmable | Dimmable (0 - 10 V , IOT , DALI , DMX)
Input Voltage

Power Supply: Internal | 100 - 240, 277 VAC (50 - 60 Hz) | 127 - 431 VDC

Power Consumption
Max. 120 W
Storage Temperature
-40 °C / +80 °C | -40 °F / +176 °F
Operating Temperature
-40 °C / +40 °C | -40 °F / +104 °F
Start-up Temperature
-25 °C / +40 °C | -13 °F / +104 °F
Housing Color(s)

DB703 powdercoated

White powdercoated

Black powdercoated

Custom Color RAL

Ingress Protection
IP66
Environment

Certification
Produktdaten
Photometrische Daten